Driving Your Organization's PATH to IT success
At DYOPATH we work with the single purpose of helping our clients combat the ongoing increase of cyber threats, the growth in more complex IT environments, and the ever-increasing human capital shortages.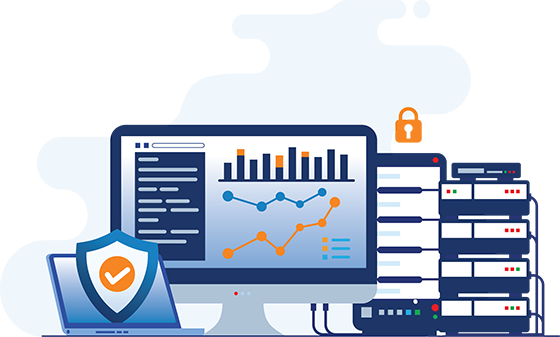 Our experts resolve your questions and needs on the first call, with no follow-up needed; industry average is only 60%
With a primary focus on customer service, we outperform our competitors in user satisfaction; industry average is far below at only 56%
Our business-first approach results in greater efficiency for organizations across service and productivity levels
Our Services
We design, implement, and support innovative IT solutions that are always available, secure, and intended to empower your organization by reducing risks and improving performance.
Advanced Security Services
Protect your proprietary and sensitive data with confidence
Cloud Services
Securely store data and connect from anywhere, anytime while improving IT efficiencies
Connectivity Services
Improve communication with employees and customers across multiple media streams
Education Services
Digitally safeguard your community while providing equitable access for all students
IT Outsourcing Services
Combat the ongoing increase of talent shortages while battling antiquated technology inefficiencies
Managed Services
Move away from the IT break/fix cycle that results in high costs and downtime and improve daily operations across your organization
Professional Services
Improve productivity and operations through best practices design, implementation and support
Why Clients Choose DYOPATH
We create long-standing, trusted partnerships with our clients, backed by exceptional service and unmatched expertise.
Discover why organizations of all sizes trust DYOPATH with their IT needs.
Testimonials
Don't take it from us. Read what clients say about working with us.
I needed a technology consultant – a partner. I was very happy with what DYOPATH was able to do for us.
– Krystle K., Director of Operations, Great Lakes Academy
DYOPATH has gone above and beyond on numerous occasions and on one evening our Project Manager stayed until midnight. He stayed to work with a vendor to fix a persistent problem with our President's IT equipment.
– Colleen J., VP – HR, IT, & Security Officer, CNOOC Petroleum USA

DYOPATH was selected for the depth of their service offering, their demonstrable experience and proven, yet flexible approach.
– Chris M., Director of Information Technology, El Paso Electric
Ask about DYOPATH service offerings, assessments, pricing information, or any other IT-related topics.
Our highly trained IT experts are standing by, ready to help.